Nine Entertainment Co has grown net profit by 79 per cent to $181.9 million for the fiscal half year despite challenging advertising market conditions caused by the coronavirus pandemic.
The company's revenue fell 2 per cent to $1.16 billion for the half year to December 31 while group earnings before interest, tax, depreciation and amortisation grew by 42 per cent to $355.4 million.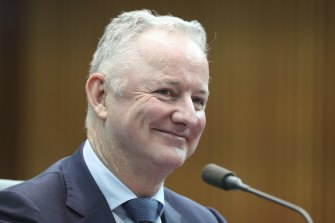 Outgoing Nine chief executive Hugh Marks said the company had performed well despite volatile market conditions. It will pay a fully franked dividend of 5¢ per share on April 20.
"We acted swiftly when circumstances changed," Mr Marks said. "The lessons we have learn from COVID are clear. Our focus on strict cost efficiency at our traditional media assets delivered the profitability we were targeting. And continued investment in our digital businesses is delivering strong digital profit growth. Together, enabling us to continue to migrate the business to a more flexible, digital-base.
"I've had a great five years at Nine, and am confident that I am handing over the reins at the perfect time – of a business which is clearly firing."
The media company owns The Sydney Morning Herald and The Age as well as television network Channel Nine, radio stations such as 2GB and 3AW and streaming service Stan. Nine also has a majority stake in real-estate listings website Domain.
Nine's half year results are the last for Mr Marks, who resigned in December after revealing he was in a relationship with his former executive, Alexi Baker. A replacement for Mr Marks, who ran Nine for five years, has not been announced. Industry sources familiar with the hunt for a replacement said in early February there were four executives being considered.
The internal candidates are Stan chief executive Mike Sneesby and chief publishing and digital officer Chris Janz. External candidates include former Endemol Shine boss Carl Fennessy and David Lynn, the former president and CEO of ViacomCBS Networks.
Nine's revenue was steady at $621.5 million, buoyed by a return in advertising dollars for television and strong revenue growth for free digital video service 9Now. The radio division was badly affected by the coronavirus pandemic, with revenue down nearly 20 per cent.
Revenue in Nine's publishing division fell by 9 per cent to $263.4 million but costs were reduced by 17 per cent. EBITDA grew by 27 per cent to $68 million. Mr Marks said in an internal note that 60 percent of total revenue for the publishing division came from subscribers.
"As you may have read, we're also in talks with Google and resuming discussions with Facebook for a deal, which if concluded, will provide a further guaranteed annuity-type payment that will underpin our journalism and further drive the evolution of our business," Mr Marks added.
The Herald and Age reported last week that Nine had signed a letter of intent with Google for a deal that could be worth more than $30 million a year. Industry sources have since indicated this figure could be nearly $45 million a year. Facebook has not signed any form of deal with the company as of this morning but is expected to do so after striking an agreement with the government over proposed media bargaining laws.
Subscription streaming service Stan benefited from more people spending time at home, with revenue for the half growing by 28 per cent to $149.1 million and earnings up from $14 million to $36.5 million for the half.
Nine did not provide earnings guidance for the full year but said it expected small improvements to its revenue as the advertising market recovered. Nine shares closed at $2.67 on Tuesday.
The company said it would return $2 million its subsidiaries had received from the federal government under the JobKeeper wage subsidy program.
More to come
Zoe Samios is a media and telecommunications reporter at The Sydney Morning Herald and The Age.
Source: Nine profit up 79% to $181.9m